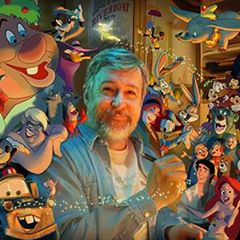 Mike Peraza
Mike Peraza is an award winning designer with over 35 years of experience creating magic for the Walt Disney Studios, Walt Disney Television, Walt Disney Comics, Walt Disney Fine Art, Disneyana and Walt Disney Imagineering. He has also worked with legendary film makers Tim Burton (classmate at CalArts), Steven Spielberg, George Lucas, Don Bluth, studios including Warner Brothers & MGM and 8 of the 9 Old Men. From working as Art Director for Disney's "The Little Mermaid" on the big screen or designing "DuckTales" for the small screen, Mr. Peraza's talents have helped shape the animation world, and usher in the fabled Disney Renaissance. In 2014 Mike received the Friz Freleng Lifetime Achievement Award for Animation Arts. In 2018 Mike received the treasured DFC Disney Legend award.
Born and raised in New Orleans, his animated station breaks for a local TV station solidified his dream to create animation and he set out west to attend the prestigious California Institute for the Arts, a university that Walt Disney himself established. Tuition fees proved too costly and he planned to leave. Disney Legend Jack Hannah, Dean of the Disney Program intervened with the Disney family offering him a full scholarship along with a job as Teacher's Assistant enabling him to stay and study the craft he loved in addition to getting to know each Disney Instructor on a close one-on-one relationship. At the end of each year, students showed their films to an amazing audience including Ron Miller, Lillian Disney, Diane Disney, Frank Thomas, Ollie Johnson, Ward Kimball, Woolie Reitherman, Chuck Jones and other animation notables. Afterwards Mike found a note inviting him to come and work for The Walt Disney Studios, his dream job.
Mike went on to have a hand in the concepts of animated features for film, TV and games including projects such as: Fox and the Hound, Mickey's Christmas Carol, The Black Cauldron, Dragon's Lair, Space Ace, The Great Mouse Detective, TRON, The Little Mermaid, Return to OZ, Ducktales, Chip and Dale, Rescue Rangers, Talespin, Goof Troop, Darkwing Duck, Who Framed Roger Rabbit, Aladdin, Beauty and the Beast, Thumbelina, Stuart Little, Anastasia, Ice Age. DuckTales Remastered and others.
Gallery Disneyana+ is honoured to represent this living Disney legend. We look forward to offer an exclusive selection of Mike Peraza's incredibly beautiful original art and sought-after limited edition prints and lithographs.